Total Superyacht
Compliance Checklist for ISM, Safety & SOPs
Developed by the trusted SuperyachtOS.com team, with the support of veteran DPAs, the Total Superyacht checklist app slashes the administrative burden for all departments.
There has never been a more powerful or simple-to-use piece of software that encompasses all aspects of regulatory compliance, providing a complete safety management solution.
From Standard Operating Procedures, Familiarizations and Training to Crew Certificates and Hours of Rest, Total Superyacht has you covered from A to Z.

ISM: It's Simple Mate!
Our unique digital workflow process eliminates the printing, scanning, attaching and emailing that other so-called paperless systems require.
Crew work through iPad checklists, and all 52 modules talk to each other, both within and between departments as well as with shore managers, removing the need to manually enter the same information in multiple locations.
Failed ISM items are automatically added to the ISM task list and processed using the built-in standard corrective action process. They can also be added to the Safety Meeting Agenda with the click of a box.
Benefits Include:
* Flag & DPA audits managed with minimal preparation time
* Everything at your fingertips in readiness for Port State Control inspections
* Monitoring of all crew and vessel certificates and equipment warranties with automated email alerts, so you'll never miss a certificate renewal date again
* Offline access with very low bandwidth requirement for synchronization
* A dashboard that provides in-depth analysis of a single yacht or an entire fleet for each month and year, which offers unparalleled insight into problem areas and how to fix them
* If the yacht changes ISM providers, all historical records stay with the vessel and the new ISM provider's SMS simply replaces the old one.
Checklist Heaven for Interior, Deck & Engineering Operations
Over 200 expert checklists are available to get crew up and running fast. They can be edited to suit your individual yacht, or you can easily create customized checklists and procedures from scratch.
HODs can schedule tasks to be repeated at intervals or simply recall them as needed. These detailed checklists considerably reduce the time needed to train new crew and allow recently hired crew and dayworkers to complete tasks with minimal supervision. New crew can also submit their personal bank and medical details and certificates before they even step onboard.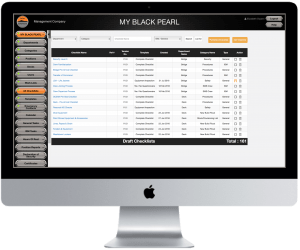 Benefits Include:
* Substantially faster Familiarizations, Inductions and Crew Training
* Automated workflow within and between departments, which allows crew to get back to providing 7-star service
* Detailed checklists reduce the risk of damage to luxury finishes and ensure that crew never miss a beat
* Peace of mind that proprietary information stays with each vessel even when crew change, leading to greater consistency of service

The Luxe App upgrade makes the software particularly powerful and time-saving for new builds because SOPs can be set up in record time and the Knowledge Centre ensure crew can perform at their absolute best.
Works on any computer and iPads.