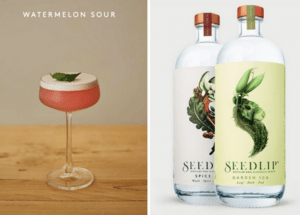 Seedlip Mocktails Featured in the Luxe App
Seedlip Mocktails Featured in the Luxe App After just two years on the luxury beverage scene, Seedlip — the world's first line of distilled non-alcoholic spirits — has made quite an impression. Stocked in an impressive list of Michelin-starred restaurants, including The French Laundry, The Fat Duck, The Clove Club and The American Bar at The Savoy.  Seedlip was recently awarded the prestigious "Brands of Tomorrow Award for Emerging Talent" by Walpole British Luxury Awards at The Dorchester.
"Copper pot distillation of individual herbs, plants and spices has created two unique spirit blends that are sugar-free, sweetener-free and calorie-free and are best mixed with tonic or used as a base for non-alcoholic cocktails." 
For too long, abstinence has meant guests were limited to fairly dull beverages. Seedlip's popularity has driven famous mixologists to create all new exotic, mouthwatering beverages — and they're now featured in Superyacht Operating Systems Luxe App. The SOS team is thrilled to provide crew with more stimulating options to offer their non-drinking guests.
Crew can access these recipes, along with hundreds of traditional top shelf cocktails, with a few quick clicks on the iPad. The Luxe App SOP System & Knowledge Centre  is available as a stand alone product or built in to SOS's Total Superyacht Vessel Management Software.
Original Article Published in www.Superyachtnews.com – Seed Lip