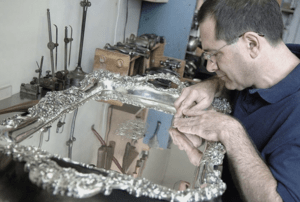 Silver Expert Adds His Shine to Luxe App
When the Superyacht Operating Systems (SOS) team created the Luxe App's Knowledge Centre –  a vast encyclopaedia of all things superyachting—they searched the world for the most respected experts in every field. The aim was to ensure the highest quality and reliability of information, available to crew with just a few clicks on the iPad.
When silversmith Jeffrey Herman agreed to be their expert on all things silver, it set the bar high for every expert to follow. He is the founder and executive director of the Society of American Silversmiths and advisor to several notable entities including the New York Silver Society and Silver Magazine. He is a fellow of the Institute of Professional Goldsmiths, UK, a member of the Preservation Artisans Guild, and recommended by Georg Jensen, Buccellati and such cultural powerhouses as the Boston Museum of Fine Arts, Yale University Art Gallery, Rhode Island School of Design Museum of Art, Christie's, and Sotheby's, to name a few.
Jeff is an environmentalist and uses the safest non-toxic, organic products available. With over forty years of experience as well as up-to-date knowledge of studies performed by notable conservation institutes, his knowledge and methods are state-of-the-art and the SOS team has already identified several common practices on board superyachts that Jeff strongly advises against.
Superyacht Operating Systems are delighted and proud to have Jeff as the expert silver consultant for Luxe App, and they look forward to sharing his expertise across the industry.
Originally posted in www.SuperyachtNews.com
http://www.superyachtindex.com/press-release/27614/total-superyachtrsquos-silver-expert-adds-his-shine-to-the-digital-referenc