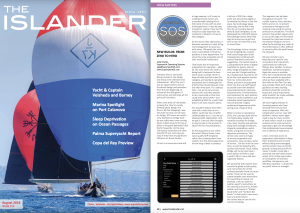 Everyone loves a new build. Being involved in the design and setup is the ultimate crew achievement. Why? For me it was an opportunity to ensure functional design and operation from the very beginning, to include all the little gems I'd come across and eliminate all the points of frustration.
When crew think of new builds as being fun, they're usually thinking about design and fit-out. All that shopping! I was fortunate to have a lot of input on design. (Of course we need a crew dayhead on bridge deck – do you really want crew running down 4 decks to go to the loo or pilots in the guest dayheads?) But that's frequently not the case. Third party companies are often hired for fit-out, and crew are lucky if they have any significant influence on these choices.
"Of course we need a crew dayhead on bridge deck – do you really want crew running down 4 decks to go to the loo or pilots in the guest dayheads?"
Fit-out is an enormous task and a huge expense, so it's easy to understand why owners are uncomfortable leaving this in the hands of crew with no prior build experience. It may be easy enough for veteran crew, but the industry's rapid expansion has resulted in a dilution of crew in that category.
As the launch date approaches, it becomes necessary to start hiring mid management to assist you with setup. Ultimately the entire team is assembled to fill all the positions in your department. For some this is the enjoyable part of their new build involvement.
That leaves the all-important preparation for operation – after all, the only reason the yacht is being built is because the boss wants to go cruising! There's a heap of tasks that fall under this category, and standard operating procedures don't always get the priority they should because crew are often time-poor. It's a tedious task—I've yet to come across anyone who said they wanted to do a new build so that they could write all the SOPs—and establishing SOPs for a yacht that doesn't yet exist requires talent.
You wouldn't believe how often crew tell us that they're on a 100m+ yacht that has no SOPs! Unfathomable to us – but we are obsessed with organization. And we get it: crew are often brought in way too late in the process to allow time for this preparation.
As the popularity of our online document library shows, crew value quality SOP templates rather than creating them from scratch. Our first-hand experience of how long it takes to produce a full set of SOPs for a large yacht was what encouraged us to develop the library in the first place. But technology keeps advancing, and we felt it was time for us to evolve beyond Word & Excel templates. So we developed the LUXE SOP System & Knowledge Centre (with iPad app) to ensure you to go from zero to hero for that first cruise in record time.
The Knowledge Centre includes fit-out shopping lists created from actual large yacht build shopping lists combined with several inventories and crew suggestions. The overall result is a comprehensive series of digital checklists for guests, interior, deck, bridge and galley to make sure you don't forget anything.
Our employment documents are by far the most popular request from our online document library, and we've incorporated them into the Luxe SOP System to provide crew with detailed Crew Requirements, Interview Questionnaires, Familiarisations and Handovers for each position. These are easily modified to suit individual vessel requirements and will provide a highly professional appearance while saving crew a heap of time.
When it comes to operational SOPs, the Luxe app really shines. It includes daily, weekly and monthly checklists for bridge, crew mess, laundry and pantries along with stowage procedures, shipyard preparations, watch duties, and guest arrival and departure procedures. The service area covers all types of service preparation and procedures, mise en place, styles of service… Far too much to cover here, so we'll be featuring this section next month. Deck, Galley, Bridge and Purser also have a cross-section of SOPs to start a yacht's life in a very safe and organized fashion.
We partnered with experts from around the globe to add quality care instructions for all the surfaces typically found on luxury yachts. These can be used to create bespoke care instructions for everything on board. For example, crew can take our leather expert's instructions on the cleaning and care for Aniline leather and rename it "Master Study Sofa" and "Sundeck Bar Stools" so that junior crew never have any doubt about the correct way to care for the luxury furnishings.
This approach can be taken throughout the yacht – for marble, leather, silver, stainless, fabrics and so on, to prevent unnecessary damage by well meaning crew using the wrong products or procedures. The build period is the perfect opportunity to set up this type of information because the crew have access to the Interior Designers to learn what the furnishings are made of. That information is often difficult to come by after the yacht leaves the shipyard.
We also include Luxury Manufacturer–specific care instructions from commonly used brands for bathroom fittings, door handles, furniture, tableware, architectural glass… Again too many to mention here, but it would literally take the crew months to reproduce what we have available with a few clicks on the iPad. Our app also provides HODs with strong guidance on what cleaning products should be carried on board and, more importantly, what shouldn't be made available to inexperienced crew.
We were highly selective in choosing experts who have devoted their lives to their areas of expertise. With this collaboration and our Luxe SOP platform, owners never again need to pay for many months of work only to result in a lesser outcome since crew cannot be expected to gain the knowledge that professionals have amassed over a lifetime of experience.
Junior crew have access to explanatory information to keep them productive and on track without being micromanaged, and the whole crew can hit the ground running and pull off the owner's maiden cruise like a seasoned and well-oiled charter vessel. All in all the app creates an atmosphere of seamless workflow, transparency and effortless expertise—a dream for any yacht owner or manager.
Originally posted in The Islander – August 2018