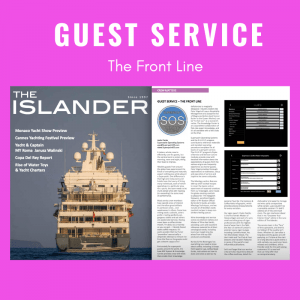 GUEST SERVICE – THE FRONT LINE
It takes a whole crew to efficiently care for guests, but the service team is center stage morning, noon and night, doing their best to impress.
Wealthy guests from around the globe have experienced the finest of everything and naturally expect nothing less while aboard a Superyacht. One difference is that high-end restaurants and hotels have the luxury of hiring many individuals, each of whom specialises in a particular area. On a yacht, the team needs to be multi-skilled while still meeting (or exceeding) the same level of performance.
Most service crew members have special areas of interest and therefore great skillsets in particular areas… and weaknesses in others. Some love mixing exotic cocktails, others prefer creating perfectly set, gorgeous tables and yet others are passionate baristas. Having never been a coffee drinker myself, I'm about as un-barista as you can get—I literally feared exotic coffee requests. It's quite possible that my Purser 'promotion' was actually a desperate attempt to remove me from the floor so the guests could get a decent cappuccino!
Fortunately for superyacht guests around the world, the Luxe SOP System & Knowledge Centre provides crew with tools that enable their knowledge deficiencies to magically disappear. Industry leaders like Peter Vogel of Luxury Hospitality Management and Josephine Ive of Magnums Butlers (and former Butler to the Queen Mother) can be "in their ear" at a moment's notice. The Knowledge Center is an unparalleled collaboration of first-rate expert knowledge, and it's all available with a few clicks on the iPad.
Superyacht Operating Systems and the G.U.E.S.T. program contribute to reference materials and standard operating procedure templates for all facets of superyacht service. The G.U.E.S.T program's Styles of Service and Service Culture modules provide crew with detailed information about the expectations of guests from the various origins we frequently experience as charter guests. Peter Vogel provides thorough explanations on tablewear, setup and execution of service and Josphine Ive covers etiquette.
The Mixology section features 100 top shelf cocktail recipes to cover the basics and an assortment of seasonal creations from our mixologist, who travels the globe creating cocktails to please her 77k Instagram followers. Jonathan Pogash, editor of Mr Boston Official Bartender's Guide, provides Mixology Techniques, and we include all of Seedlip's exotic mocktail recipes to keep non-drinkers feeling special.
Wine knowledge and service comes via Onshore Cellars and Master of Wine Rod Smith, providing users with excellent reference material for all their oenological needs, including Iconic (an insight into the wines from the top 100 producers worldwide).
Barista & Hot Beverages has everything you need to know about coffee, including 10 Steps from Seed to Cup, Coffee Roast Guide, instructions on how to store and brew as well as my personal favorite: the Espresso & Coffee Ratio Infographic, which provides precise measurements for every variation.
Our cigar expert, Paola Paolilo, is the first female Master of Havana Cigars and part of a very small and elite group of cigar professionals with the highest level of expertise in the field. She has run some of London's premier luxury cigar lounges including Corinthia Hotel, No. Ten Manchester Street, The Hari Hotel and The Club at Four Seasons and has been featured in some of the world's most influential publications.
Let's not forget that our service crew are also required to descale the coffee machines, detail the dishwasher and expertly manage red wine spills on expensive white carpet. Luxe wouldn't be a complete solution if it didn't address all of this and much more. You can read more about that in my "Empower Your Interior Crew" article in the June edition of The Islander.
The service team is the "face" of the superyacht, and there's no hiding it if the quality isn't there. Whether it's 3am after a long day and the guests are still partying, or it's 6am at the start of a long day and a guest wants a café cortado, you want your team relaxed and confident, with a friendly smile for the well-paying customers. It's a rare tool that can help offer that so comprehensively.
Originally published in The Islander September 2018