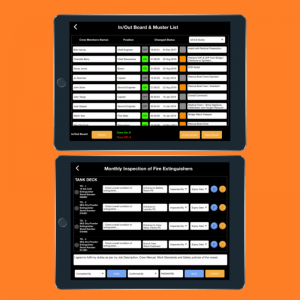 The optimum superyacht management system requires having all the relevant and necessary information at your fingertips in realtime
The best piece of advice I ever received as a Captain was this: "When making decisions, I should always ask myself: 'What will I tell the Judge if it all goes wrong?'"
Of course, it's one thing to know this is good advice. In reality, it can be a real struggle to introduce best practices. Back-to-back guest trips and refits can seem to take all your time. Your engineer might keep good records via Vessel Management Software, but it can be hard to convince crew in other departments to take on the burden of dated systems that don't meet their needs
We've heard the same complaints over and over: "The inventory fields aren't suited to my department. It's so frustrating when I have to enter the same information in so many locations. It takes too much time printing, scanning and uploading everything to keep good safety management records."
They're used to using modern, well-functioning apps in their everyday lives so they loathe systems requiring double data entry and time-consuming attachment scanning and uploading. Especially when they're already lacking sleep and personal time. You need a way to appeal to the demands of modern crew and ease their workload and yours while still covering yourself in the event you do have to answer to a judge one day.
Let's imagine a dream scenario where you can pre-program Required Reading, Familiarisations and Certificate requirements for each position, and in bound crew can complete all of their crew details and upload their certificates before they even step on board. A system where a crew member completes the monthly safety inspections on an iPad and the system automatically applies the failed items to a worklist then generates and saves a report which is synchronised with shore-based management.
Imagine the ability to apply tasks to a paperless Safety Meeting with just a few clicks and have the meeting minutes automatically saved and synchronised with shore management. A system where the DPA is automatically notified when Non-conformity or Accident & Incident reports are created or modified. Where the system electronically acknowledges receipt of Notices & Circulars and automatically returns that acknowledgment to the shore management. A system in which monthly maintenance reports are automatically generated for both planned and unplanned maintenance tasks, and you can drill down into a digital General Arrangement plan to display equipment, inventory or maintenance in any location.
Ideally, this system would automatically add and remove crew and guests from the digital In/Out Board and Muster Lists when they're marked as on or off and track crew vacations as well. For the guests' safety, the system would also track the guest movements whether they are on water toys, at the beach or ashore shopping.
his dream system would track Crew and Vessel Certificates and notify you when they're becoming due for renewal. It wouldinclude a Daily Dashboard that displays reports and analytics for Hours of Rest and crew leave.
Here at Superyacht Operating Systems we have turned your dreams into a reality by developing Total Superyacht – a fully paperless vessel management system that includes all the above and much more.
The optional Luxe Knowledge Centre add-on includes over 1000 comprehensive records written by global experts about every aspect of yachting—from stain removal, top-shelf cocktails and seven-star service techniques through to caring for crystal, teak, silver and carpet just to name a few.
What are you waiting for? Stop fantasising and start subscribing
Originally published in OnBoard Magazine