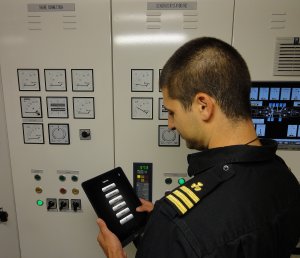 With over 40 years of combined experience working onboard, ex-Purser Jodie Clarke, and Captain Dave Clarke know a thing or two about the practicalities of a superyacht operation. After moving ashore they launched Superyacht Operating Systems and built an immense document library which they subsequently evolved into two game-changing applications, Total Superyacht and LUXE, transforming SOPs across all departments.
We met up with Jodie and Dave to discuss the benefits to a yacht's overall program.
OO: Tell us a little about Total Superyacht and the problem it solves for large yacht operations.
Based on decades of experience, we know how time consuming it is managing a department or an entire vessel using outdated tools like Excel and Word which are not designed for this purpose. At the same time compliance is getting ever stricter and management companies are paying more attention to the bottom line. We therefore saw the opportunity for a complete vessel management solution to increase efficiency and enhance safety across the board.
OO: So what are the options for clients and how does it work in practice?
The system itself is easy to set up, it's fully customizable and clients can even apply their own branding to the platform.
Our Vessel Management software comes with a modern interface, a Checklist App and automated workflow which includes everything from Work Lists, Equipment Lists and Planned Maintenance to Manuals, Inventory, Crew Certificates and In/Out Board, all on one easy to use platform that is fully ISM, ISPS and MLC Compliant.
Our compliance software is available in two formats – Mini ISM and Full ISM – including for example, Drill Matrix, Non-Conformities, Accidents & Incidents, Risk Assessments, Notices & Circulars, Medical Reports and DPA & TSA Comments, which sync between the yacht and servers ashore. The benefit to the yacht is a huge reduction in administration time, especially when it comes to audit preparations.
Our Fleet Management software is designed for management companies to increase efficiency at fleet level, again saving time and money and reducing risk whether it's for five yachts or 50. Smart data processing also provides Fleet Analytics to guide decision making and enhance safety.
OO: Earlier this year you also launched LUXE App – how did that come about and what does it do?
LUXE is a unique product in several ways. Firstly it combines a huge number of SOP templates which can be fully tailored to each individual vessel and department. Secondly we've incorporated a vast knowledge centre so crew can import reference cards and checklists for the maintenance of equipment and materials in their department, or those specific to their role.
For example, crew might copy the Aniline Leather Cleaning Instructions and rename it Sky Lounge Bar Stool Cleaning and add it to their checklist. It can then be scheduled at intervals on the calendar or simply called upon when needed. Every time the checklist is completed, a non-editable date and time-stamped PDF records who completed the task.
In reality stewardesses aren't taught about the care of surfaces or rare materials and the assumption is that they will learn all of this in the job. Sometimes they do, but it varies from boat to boat and between HODs. Also, documents often go missing when crew leave a boat and all that knowledge gets lost, so it made sense to develop a system that facilitates learning for new crew, that empowers HODs and, just as important, stays with the boat!
Owners spend a fortune fitting out their yachts with rare, fragile and expensive surfaces and furnishings, so we need to provide crew with better resources for this huge responsibility and it makes no sense for every yacht to individually replicate this exercise. LUXE App is an obvious solution; it literally puts the 'system' into SOPs.
OO: How do you source the information available in LUXE?
This is actually another defining feature of LUXE – we've collaborated with leading experts in each field, sometimes an individual, sometimes a company or association. They were all very receptive and open to sharing their knowledge, so we've been able to develop a really valuable and unique resource across all departments.
To give you some examples, our silver expert is the Founder and Executive Director of the Society of American Silversmiths, a respected advisor to the New York Silver Society and recommended by museums and auction houses such as Buccellati, Christie's and Sotheby's.
Our leather expert created the very first Leather Care and Repair training school in the US and then took her techniques back to the UK. Her company now services the superyacht and airline industries and trains delegates from all over the world.
We've also collaborated with Peter Vogel of Luxury Hospitality and Josephine Ive of Magnums Butlers to create detailed checklists for service and housekeeping operations.
The overall system isincredibly detailed and features 1,200 reference cards via a few clicks on an iPad, Mac or PC.
OO: What size of vessel is LUXE App for and how does it sit alongside existing management software and Apps?
Our clients range from 30 to 90 meters (including yachts with shadow boats) but any size of yacht will benefit because they all have maintenance responsibilities. The larger the yacht the greater the benefit because LUXE also saves time training new crew and getting them up to speed with the overall operation.
LUXE operates independently of other vessel management software but if the yacht already uses Total Superyacht then it can be integrated as an optional extra.
OO: How receptive are the management companies?
Management companies love it because they immediately see the benefits to themselves and the whole operation.
OO: What's the feedback from captains and crew?
Generally their jaws drop as they can see an enormous amount of work has gone into this. We like hearing that because it's true and it will keep getting better as we expand the content further. But as clients often remark, it really needs to be seen firsthand by someone who understands the day to day operation of a yacht to fully appreciate its value.
OO: How much crew training is required to get started?
Crew typically seek a little guidance in the initial setup stages, mainly because nothing similar exists so they need a little direction and we're always there to assist them. Video tutorials are also built into the App, and we offer unlimited support via email, Skype and phone.
OO: What are your future plans for LUXE App?
Superyachts are a great place to start but high end hospitality is not limited to yachts, so we plan to expand into luxury aviation, private estates, boutique hotels and cruise liners. LUXE is perfectly suited to all luxury establishments.
https://www.onboardonline.com/industry-article-index/tech-and-comms/taking-the-sweat-out-of-superyacht-operations/