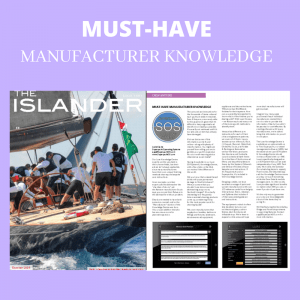 Our Luxe Knowledge Centre experts are the very best in their chosen fields, but their advice isn't always applicable, since many manufacturers have their own unique finishing methods that require bespoke care instructions.
As an example, our silver expert calls the dishwasher the "chamber of doom," yet the flatware manufacturer Ercuis says you can put their flatware in the dishwasher without problem.
Clearly we needed to have both scenarios covered, and so the "Manufacturer" section of the Knowledge Centre was born. It's a crucial addition that also has enormous room for planned expansion.
The care and use instructions for the thousands of items onboard each yacht are seldom retained. Even if they are, crew rarely refer to this paperwork given that it's difficult to keep organized and therefore not readily accessible. It's usually not retrieved until it's too late and an item has already been damaged.
It's true that some of this information can be found online – along with plenty of misinformation. You might ask yourself how willing you are to gamble your yacht's expensive fit out on well-meaning advice obtained via social media?
Having it available in our Luxe SOP System & Knowledge Centre, with a few clicks on the iPad, can make all the difference in the world.
Did you know that aniseed-based drinks will cause permanent damage to Strahl drinkware? Were you aware that you shouldn't use lemon-scented dishwashing soap on any Haviland Limoges? It's actually interesting how frequently lemon-scented cleaning products come up, considering it's by far the most popular scent for cleaning liquids!
We cover manufacturers that supply door handles, bathroom fittings and fixtures, tableware, serviceware and equipment, appliances and decorative items. THG alone has 30 different finishes for their tapware. How can you possibly be expected to know which of the finishes you're dealing with? With Luxe it's easy – we feature each and every one of them along with methods to identify them.
Versace has different care instructions for each of their china and glassware patterns; we cover all of them. Luxury brands such as Villeroy & Boch, J L Coquet, Bacarrat, Waterford, Christofle, Ercuis, and Robbe & Berking are featured as well as fine fabric producers like Alcantara and Sunbrella. Luxurious bed and bath linens from the likes of Heirlooms and Sferra and beautiful tableware linens by Kim Seybert, Chilewich and Deborah Rhodes all have bespoke care instructions. If it's frequently found on Superyachts, it's included in the Knowledge Centre.
Stepping outside, we have excellent coverage of paint and varnish manufacturers with over 100 reference cards from Awlgrip, International, Boero, Alexseal, and Epifanes that include all of their associated guidance and instructions.
The equipment on deck is often less branded, but we cover architectural glass, cushion fabrics, deck furniture and inflatable toys. We're keen to expand on this area and hope more deck manufacturers will get involved.
Imagine how many apps you'd need if each individual manufacturer created their own in order to provide this information. Clearly it wouldn't be practical or cost-effective. By creating alliances with luxury manufacturers, we're able to bring this information to you all in one place.
The Luxe Knowledge Centre is available as an optional add-on to Total Superyacht, our vessel management software (VMS), but the stand-alone Luxe SOP System & Knowledge Centre should not be confused with our VMS. Luxe is specifically designed as an SOP System that can be used independently of any VMS. Task Lists, Work Lists, the Calendar (for scheduling items to repeat), Post-it notes, the Checklist App and the Knowledge Centre ensure you stay on top of everything while the Crew Details module manages users. In other words, Luxe provides significant benefits no matter what VMS you use, or even if you don't yet have one.
It's the only way to guarantee your crew are knowledgeable about all the items they're caring for.
We'll be featuring the Deck, Galley, Bridge and Purser departments in upcoming features. Contact [email protected] for more information.
Originally published in The Islander