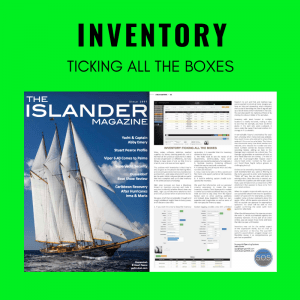 Inventory: Ticking all the Boxes
Wine, sodas, uniforms, toiletries, medical supplies, dry stores, cleaning products, not to mention all the precious luxury items it takes to make a Superyacht run efficiently… So many things to keep track of and so little time to check it, over and over and over again!
The problem with inventories is that they're only as good as the people maintaining them, and not everyone views inventory maintenance as important—and some simply don't want to do the work. I think I only ever joined one yacht that had a complete and up-to-date inventory in my entire 20 years of crewing!
High crew turnover can have a disastrous impact on inventory accuracy and make it very hard to identify whether there's been any theft… right up until the owner asks for an item and is very surprised when it cannot be found.
We gave all of that considerable thought and sought additional insight from industry peers, and it became clear that:
If you want the crew to keep the inventory up-to-date, it is essential that the inventory system be easy to use.
The fields need to suit the needs of all departments. (Unfortunately, many other systems are created by engineers, for engineers.)
Multiple locations (including off-boat) should be easy to track and understand.
A damage log should record when and why numbers are reduced.
Crew need to be able to filter, search and find items and export partial or full inventory with ease.
A built-in ordering system should auto-update the inventory.
We used that information and our personal crewing experience to create the Luxe inventory module. (Total Superyacht's module is similar but contains additional features.) We tried our best to stay away from the typical format seen in other yachting platforms and instead drew inspiration from our own expertise and imagination as well as some of the more popular inventory apps.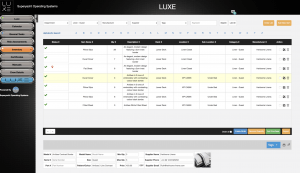 Custom tagging provides crew with unlimited freedom to sort and find, and multiple tags can be applied to individual items. Imagine you have an inbound stewardess who's indicated she's a size 8. Searching the 'Size 8' tag will pull up a list of every uniform element in that size. You can also search via numerous filters or by clicking the relevant letter of the alphabet.
Inventory with stock located in multiple locations is clearly indicated, making it easy to see that, for example, you have 12 dinner plates in the port side salon cupboard, 6 more under the owner's bed and another 4 in storage in Ft Lauderdale.
A non-editable history is maintained for each item, showing when more stock was ordered, how much it cost, who ordered it, where they ordered it from and on what date. The history also documents every time stock numbers are reduced, who reduced the number and why. Stock numbers cannot be reduced without recording history. Adding an item to the Damage Log is optional via a check box. The Damage Log provides an overview of what or who needs attention or training. (I'm kind of glad this much-sought-after feature wasn't around back when I joined my first yacht and found those fragile Lalique glasses so challenging to dry!)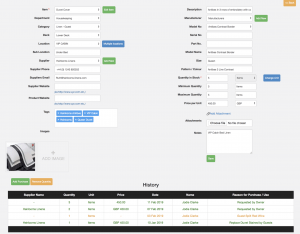 Orders can be created by checking a box beside each inventory item you want or filtering to the items you wish to order and checking the "Order all" box. You can also add items to existing orders. Once the order is created, you can select the suppliers you wish to get a quote from. Luxe will send them an email with a PDF attachment that appears to have come from your email address.
When the supplier responds with a quote, you can upload the attachment into the quotation section of Luxe with the total price, currency, supplier name and your comments about the quote. When all the quotes are entered, the HOD or captain can approve the appropriate quotation. An email will be sent to that supplier confirming the order (with their quotation attached).
When the delivery arrives, the crew can process the order in, which automatically updates the inventory numbers. If only part of an order arrives, you can accept those items and leave the balance open until receipt.
Inventory may not be the sexiest aspect of the superyacht world, but it's vital to every operation on the ship. The Luxe SOP system's expert-driven, elegant design and flexibility makes it as comprehensive yet painless as possible!
Originally Published in The Islander https://bit.ly/2IJYsK2