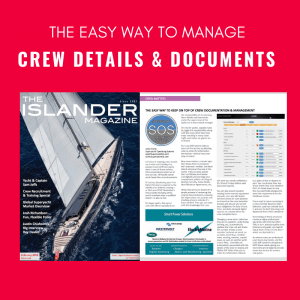 The Easy Way to Keep on Top of Crew Documentation & Management
Let's face it: keeping crew records up-to-date and tracking visa, passport and certificate expiry dates is one of those tedious, time-consuming burdens we all love to hate. I'd literally rather scrub heads than scan documents.
Of course, discovering your First Mate's B1 visa has expired in the middle of an Atlantic crossing—or that your Chief Stewardess's ENG1 needs renewing when you're nowhere near a qualified doctor—is also no fun.
On larger yachts, the purser and chief officer typically share the responsibility of maintaining these details and documents under the supervision of the captain or a shore-based manager.
On smaller yachts, captains have to juggle this responsibility along with the many other hats they wear, resulting in many a late night, even when no guests are on board.
Our Luxe SOP System relieves much of this burden by allowing crew to enter the information themselves—before they even step on board.
New crew receive a remote login that allows them to complete their personal, medical, and bank details wherever they are in the world. They can also upload their certificates and review and digitally acknowledge your employment policies on Drugs & Alcohol, Security, Social Media, Non Disclosure Agreements, etc.
When they arrive on board, it's a simple process of reviewing the original documentation, ensuring the expiry dates are accurate and checking a box to indicate it's been verified. Then you can relax with the knowledge that Luxe will send you email notifications 90, 30 and 14 days before each document expires.
You can also preset required reading (crew manual, equipment manuals, etc.) and add digital familiarisations for each position to streamline the crew induction process and ensure you've met your obligations for duty of care. Time- and date-stamped digital records are created when the crew complete them.
Changing a crew status (whether they are on vacation, undertaking training, etc.) automatically updates the Crew List and tracks the number of days a crew member has been on board, on vacation, travel days, medical leave, training, rotation, unpaid leave, or even on another yacht in your fleet. Crew lists are automatically populated with the details of the crew on board, and fillable PDF fields allow you to enter the information relevant to a given arrival or departure port. You can choose from any of our three Crew Lists: standard IMO, US Coast Guard or one that we specifically designed to meet the requirements for the Caribbean Islands.
If you need to issue a warning to a crew member based on their behavior, Luxe has a simple built-in process for both Warnings and Appraisals that is MLC compliant.
Automating all these processes creates a highly professional operation with minimal effort. This, in turn, attracts quality crew. (Owners and guests can read all about them in the in Crew Bios—which are also built in.)
As veteran crew, we understand your day-to-day needs, and the LUXE SOP System is designed to fulfill those needs, giving you more time and energy to provide seven star service for owners and guests.
Originally Published in The Islander https://bit.ly/2UqeCJx